Sidebar
Elite Core CAT-SASS Complete System
THIS PRODUCT IS BUILT TO ORDER!
QUANTITY AVAILABLE IS THE NUMBER WE CAN BUILD AND DOES NOT INDICATE PRODUCT SITTING ON A SHELF READY TO SHIP!
PLEASE CALL 855-276-2673 FOR CURRENT BUILD TIMES!

---
S.A.S.S - SPECIAL APPLICATION SNAKE SYSTEM
---
The CAT-SASS is capable of carrying four Analog Audio, AES/EBU or DMX lines down a single shielded CAT5 for 200+ FT.
---
The complete system comes with two CAT-SASS' and one single shielded CAT5 cable.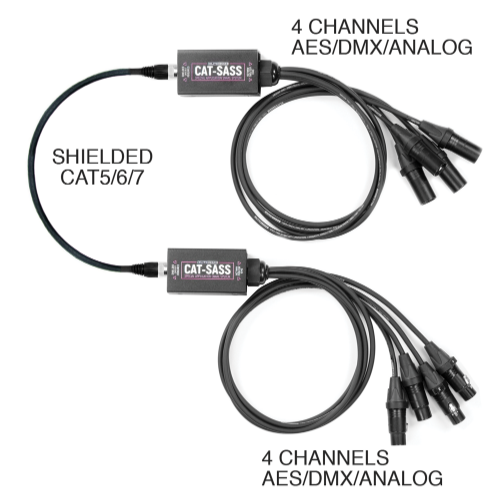 ---
Quick, easy to use and genuine solid connectivity for any situation.
The Elite Core CAT-SASS [Special Application Snake System] utilizes a Neutrik etherCON breakout to four 3 or 5 Pin 110 ohm cables. It can plug directly into your analog or digital source and run up to four balanced lines down a shielded CAT5, CAT5e, CAT6 or CAT7 cable.
• The CAT-SASS uses four, 24" 110 Ohm cables with all black 3 or 5 pin Genuine Neutrik XX series XLR connectors
• Run up to four Analog Audio, AES/EBU or DMX lines down a single shielded CAT5, CAT6, or Cat7 cable
• Not for use with intercom systems